Hello again, and welcome to another edition of Hot Topics. There was a lot going on this week in the gaming world as Modern Warfare 3 received its first big DLC, disgruntled Mass Effect fans got their wish, World of Warcraft fans get some good news, some new games took a beating from the critics, Grand Theft Auto V made an appearance, and a new Final Fantasy title may be in the works.
General Gaming News
It has been almost three weeks since Mass Effect 3 was released, and the game still makes headlines. Unfortunately, they have not been of the "positive" variety as the game has been dogged by a controversial ending and a bug that affects players who tried to import characters. Luckily, BioWare has taken steps to remedy both of those issues:
A fix has been found for the face importing issue and will be included as part of the next patch. The downside is that the patch still has to go through rigorous testing, so a release date has not been announced.
In case you missed it,BioWare co-founder Ray Muzyka confirmed that new content is being developed to address all the outrage over Mass Effect 3's ending and hopefully provide some closure.
There are a lot of side missions in Mass Effect 3, and many must be completed before advancing to a certain part of the game. IGN has compiled a list so that you don't miss any.
IGN gave its official review, but the company went back and ask some of its other editors to give their thoughts on the game. You can read their "second opinions" here.
Operation Fortress is in effect this weekend as anybody who plays Mass Effect 3's online multiplayer this weekend will receive a 25 percent boost in XP earned. The special weekend runs until 5 am PST on Monday, so time is running out.
The Child's Play fundraising initiative known as "Retake Mass Effect 3", aimed to raise money for the charity while putting pressure on BioWare to rewrite Mass Effect's ending, has been shut down by the charitable organization. The movement even caused Child's Play to revamp its own rules, so at least the movement accomplished something.
Finally, some non-Mass Effect news. Ninja Gaiden 3 was released last week, and IGN reviewed the game. Unfortunately, the review was less-than-stellar.
Hit the jump to continue reading…
Man, talk about a tough week for games: following on the heels of Ninja Gaiden 3's disastrous review came IGN's review of Resident Evil: Operation Raccoon City. What did they think? Well, the secondary headline reads, "An actual zombie outbreak would have been less tragic", so that should give you a pretty good idea how they felt about the game.
One bright spot: Silent Hill HD Collection, which received a score of 9.0 and an "Amazing" rating from IGN. You can read the full review here.
In other BioWare news, some tweets from Dragon Age creative director Mike Laidlaw caused a stir, leading to speculation that Dragon Age III may be in development.
Details on Grand Theft Auto V have been scarce, but Rockstar Games co-founder Dan Houser revealed this past week that players can transfer any "crews" they create in Max Payne 3 over to Grand Theft Auto V.
Speaking of Max Payne 3, Houser recently sat down for an interview with IGN and discussed what the company is trying to do to revolutionize multiplayer in Max Payne 3. It sounds like Rockstar has come up with some interesting ideas, so check out the interview.
Rumors are circulating that Prey 2, the sequel to 2006's Prey, has been canceled. Publisher Bethesda has no comment.
People who pre-order Anarchy Reigns, an online brawler that will be available on July 3, will receive a special treat: Bayonetta will be a bonus playable character for those who buy the game ahead of time.
Epic Mickey 2: The Power of Two has been confirmed for Xbox 360, PS3, and the Wii. The game will be a musical and feature drop-in/out co-op. No release date has been announced.
The release of Silent Hill: Book of Memories has been pushed back two months, from March 27 to May 31.
A new Neo Geo portable will be released later this year. The NeoGeo X will come pre-loaded with 20 classic NeoGeo titles.
GameStop and Blizzard have signed a digital distribution deal that the retailer hopes will boost its digital sales.
Microsoft — Xbox 360

There has been speculation that the successor to the Xbox 360 may be a digital-only console that would not have a traditional disc drive. However, Doug Creutz, analyst for Cowan & Company, believes such a move would be unlikely. Creutz feels going digital-only would be too risky for Microsoft. He also predicts that the new console could launch next fall.
GameStop CEO Paul Raines said that it is unlikely the next-gen Xbox will have anti-used game technology.
Tim Schafer, of developer Double Fine, debuted a never-before-seen Kinect prototype that uses the device to control emotions. Check out the article here to learn more about the technology and the thought process behind it.
Gears of War 3 received its fourth title update last week in preparation for the Forces of Nature DLC pack that will be available on Tuesday. The most notable changes were that Savage Grenadiers and Savage Drones can now perform SWAT turns in Beast Mode, and spectator mode received a few tweaks.
For those Call of Duty fans who opted not to purchase Call of Duty Elite, there is some good news for you: Content Collection #1 is now available. The DLC pack features four new multiplayer maps as well as two new Spec Ops missions and costs 1,200 Microsoft Points. The pack will be available to PS3 users at a later date.
Okay, this is a little weird: based on a patent filed in September 2010, there has been speculation that Microsoft is working on a head-mounted display for its next console.
Mass Effect 3 has been a commercial success, but a breakdown of the sales figures reveals some startling statistics: in the UK, 73 percent of buyers bought the Xbox 360 version compared to only 14 percent choosing the PS3 version. PC sales brought up the rear with 8 percent. Now before you go bragging about the Xbox's dominance, bear in mind that the face importing issue only affects Xbox users.
Sony — PS3 & Vita
Even though Dust 514 hasn't even been released yet, CCP is already thinking ahead: at this year's Eve fanfest, the company outlined plans to expand the game next year that include eSports functionality and the ability to watch games live and as well as place bets on them. There are plans for a lot of interconnectivity between the PC game Eve and Dust 514. If CCP can pull this off, this may well be a must-have game, and as a Xbox user, I'm not gonna lie, I'm a lit
tle envious.
Kotaku is reporting a rumor that Zipper Interactive, the studio behind the SOCOM series as well as MAG, is going to be shut down.
Could a sequel to Final Fantasy Tactics be in the offing? Developer Square Enix has posted a teaser site that states "Secret Title 2012 Summer 'C' is Coming". The site's in Japanese, but IGN has translated the text and speculates on its meaning in this article.
LittleBigPlanetKarting was officially revealed this week and is set to be released this fall at the end of October. The game is being developed by United Front Games, and Senior Producer James Grieve took the time to answer reader questions over at the PlayStation Blog. Those answers can be found in the comment section below the blog post. If you want to just see the high points, check out this IGN summary article.
Tales of Graces F hit store shelves March 13, but due to its length, IGN did not publish a review until now. The review is different than standard IGN reviews; the game features 50-60 hours of gameplay, but the review is based off of about 20 hours with the retail version. As a result, no score is given, but a consumer recommendation is provided in its stead.
Metal Gear fans will get a kick out of this: what is supposed to be a quick conversation between Otacon and Snake quickly turns into something more…
Now that the Vita has been available for a month, That Videogame Blog decided to take a look at how the handheld has done so far and where it's going to go from here.
Nintendo — Wii & 3DS

Darksiders II will be a launch title for Wii U, developer Vigil Games confirmed.
If you want to know how to unlock all the Unlockables in Mario Party 9, check out this handy wiki guide from IGN.
Theatrhythm Final Fantasy is coming to the 3DS this summer, developer Square Enix announced. The game features a variety of rhythm-based mini-games that utilizes music from Final Fantasy.
A game based on the Adventure Time cartoons is coming to the DS. No release date or details have been announced, but Pendleton Ward, creator of the cartoon, tweeted that the game will be coming out later this year.
PC
There's a lot of CCP-related news this week, apparently. Besides the upcoming Dust 514 for PS3, the company has a vampire MMO called World of Darkness in the works. More details, along with some in-game footage, will be revealed later this year, but CCP did say that the cities in the game will be modeled on real-world locations.
Curious about what's next for World of Warcraft? Gamespy has you covered with this interview with Blizzard Lead Quest Designer Dave Kosak, Lead Systems Designer Greg Street, and Production Director J. Allen Brack.
Speaking of World of Warcraft, the upcoming Mists of Pandaria features a new class, the Monk, as well as significant changes to the talent system. Read this article to learn much more about the monk as well as a ton of information about Mists of Panaria.
Also, Blizzard COO Pams confirmed that there will be further expansions to WoW beyond Mists of Pandaria.
World of Warcraft is the largest subscription MMORPG in the world, but other games are making some inroads. WoW once boasted 12 million subscribers, but that number fell to 10.2 million last month. Much of that decline can be attributed to Star Wars: The Old Republic.
This is interesting: for a limited time, Frozen Synapse will have an alternate ending. Given the recent backlash against BioWare, it is easy to wonder if this move is a shot at the Mass Effect developer. Not so, says Paul Taylor, Managing Director at Mode 7. You have to check this out simply to read what his reasoning behind the move. Quote of the week, right there.
Wasteland 2 has exceeded its Kickstarter fundraising goal of $1.5 million, meaning the game will be coming to Mac OS X and Linux.
Gamasutra has compiled a list of the best indie games of the week, so check it out. Gratuitous Tank Battles definitely caught my eye.
Game Releases for March 25-31
Country Dance: All Stars Kinect (Xbox 360)

Tiger Woods PGA Tour '13 (Xbox 360, PS3

Capcom Digital Collection (Xbox 360)

Ridge Racer Unbounded (Xbox 360, PS3 ) – March 30

Myst (3DS)

Horsez (3DS)

Supremacy MMA (Vita)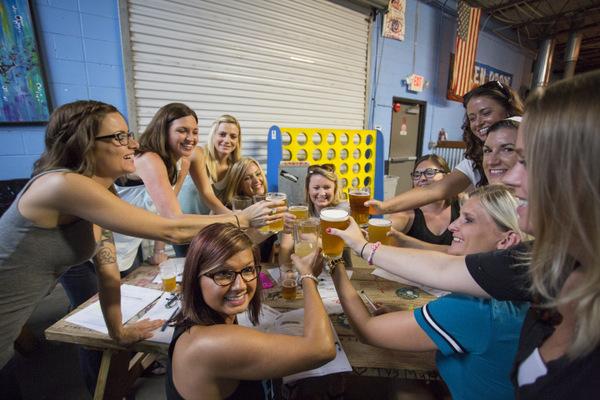 GET THE LATEST FROM GUYSGIRL

Sports. Geeks. And the girls that love it.
GuysGirl is the voice for the female fan.
Sign-up quickly to get the latest news, straight to your inbox.